In the last months, the rising signal on European offtakes from Algeria and the recent agreement reached on a new national pipeline project of 21.2 Bcm/year, highlight more confidence on a real boost of Algerian production and therefore on export by the next four years. The recent and frequent dialogues between Europe and the Algerian NOC Sonatrach, foretell a turnover of Algerian sales strategy.
Algerian gas challenge: what's the next
The final investment decision in new gas national infrastructures, GR7 pipeline, and the new partnerships researched by the national hydrocarbon Sonatrach (SH) to attract capitals in the country, is prospecting in these last months a different Algerian sales strategy compared to the last years, characterized by a limited commercial production. Indeed starting from 2013 the rise of internal demand and the production slump of the mature gas fields, pushed the NOC to renegotiate Take or Pay obligations rather than price revision. Such strategy has involved a reduction of SH market share in European markets, in particular in Italy, its main pipe destination, losing ground to Russia. In the last 3 years Algeria sales strategy was also redefined in order to defend more profitable LNG routes, characterized by an enduring premium compared to pipeline (
Chart 1
).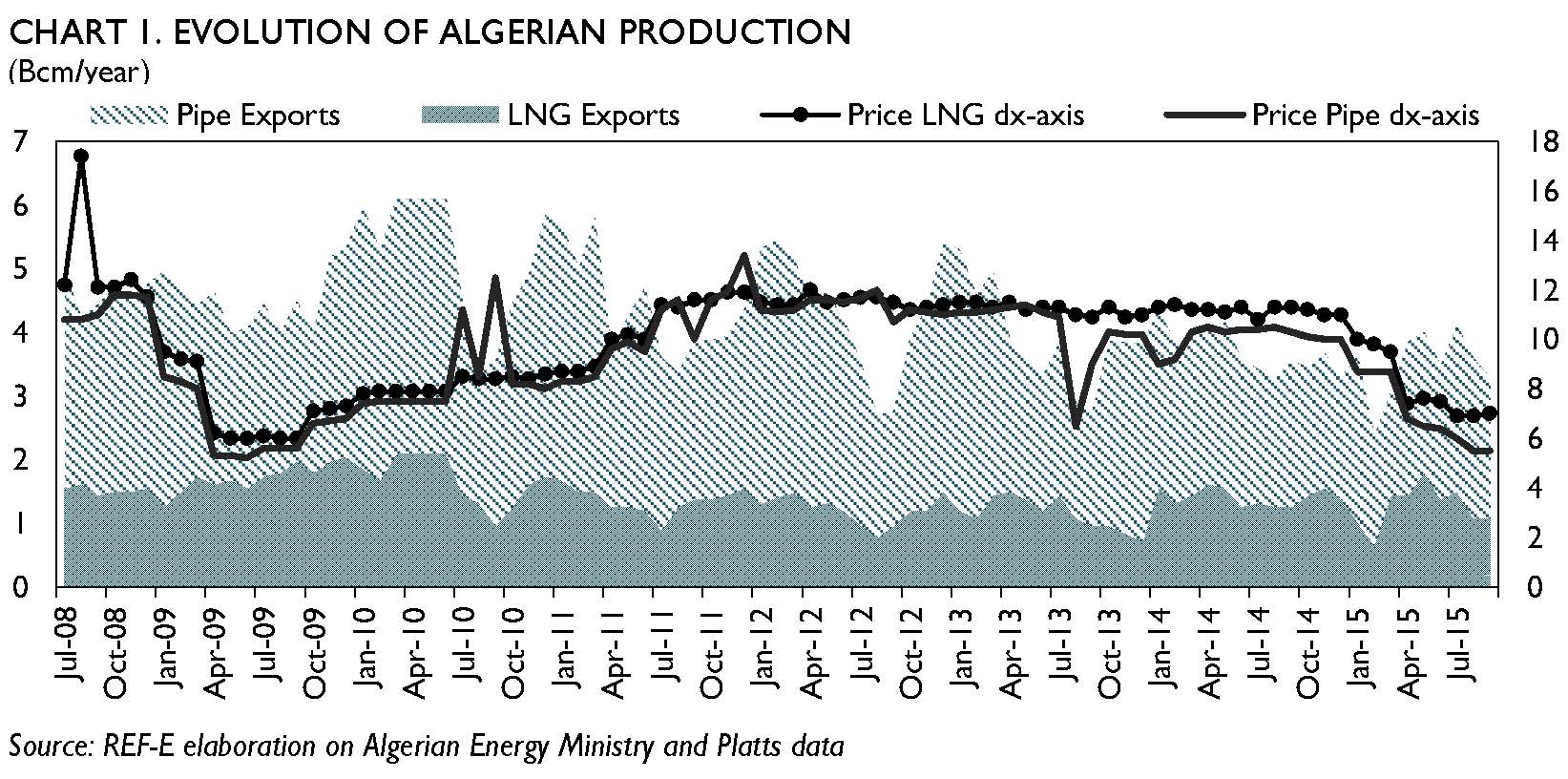 Currently the outlook seems changed. In the current summer, European market has been receiving a boost of Algerian import (especially at Mazara), as first signal, and the recent news about the construction of a new pipeline suggests a step up of Algerian gas production in the coming years. Evaluating the official declarations of Sonatrach and its upstream partners, new projects are scheduled to start- up over the next 4 years, mainly associated to the development of South West and In Salah fields (Chart 2). A likely ramp-up of Algerian production of 20 Bcm/year by 2019 could be achieved if we consider just the South West fields, whose gas will be transported by GR7 and GR5 pipelines from the south region to Hassi so towards the export points. Potentially the upside of Algerian production could reach also 40 Bcm/year, if no further delay will happen.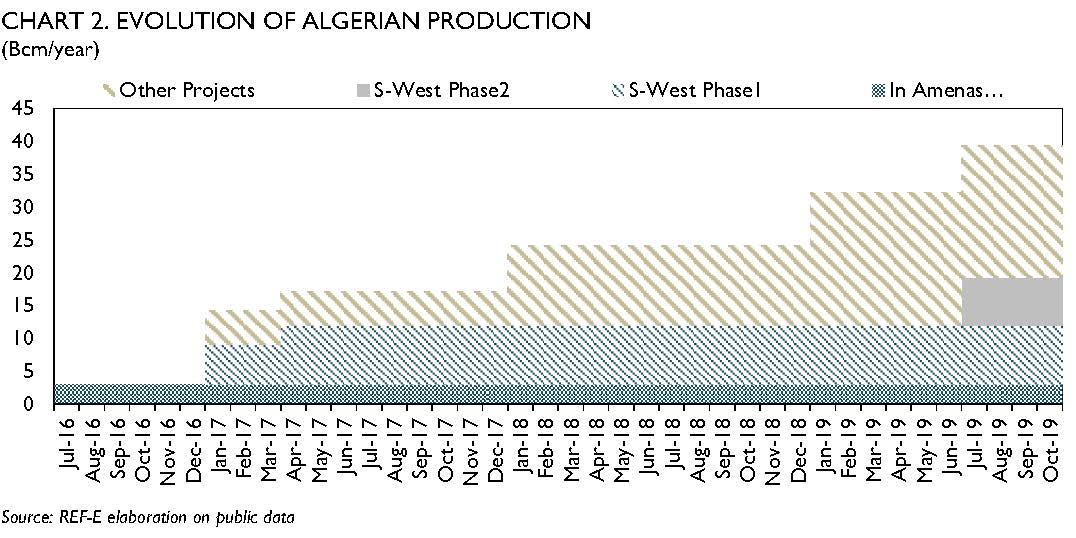 Considering this production plan, the coming on stream of these new fields, could boost the commercial production and therefore the export, at least in the medium term, growing more than 50 billion cubic meters, which means reaching 2000s, level, as declared by Algerian officials too. At the same time, the Algerian shipments in Europe could face a mounting competition from Russian piped gas and especially from the rising US LNG influx. The fact that the first US LNG importers in Europe are Portugal and Spain is telling. US cargoes could still head towards Southern European markets, until these markets will be at premium compared to NWE hubs, creating especially more pressure on Algerian exporter rather than Russian. Stepping forward, additional risk is presented by the sustainability and stability of Algerian production: supposing an increase of internal demand (CAGR=3%) and a slump of the old existing fields of 2%, with no further upstream projects, from 2020 onwards both marketed production and export could strongly slump again (Chart 3).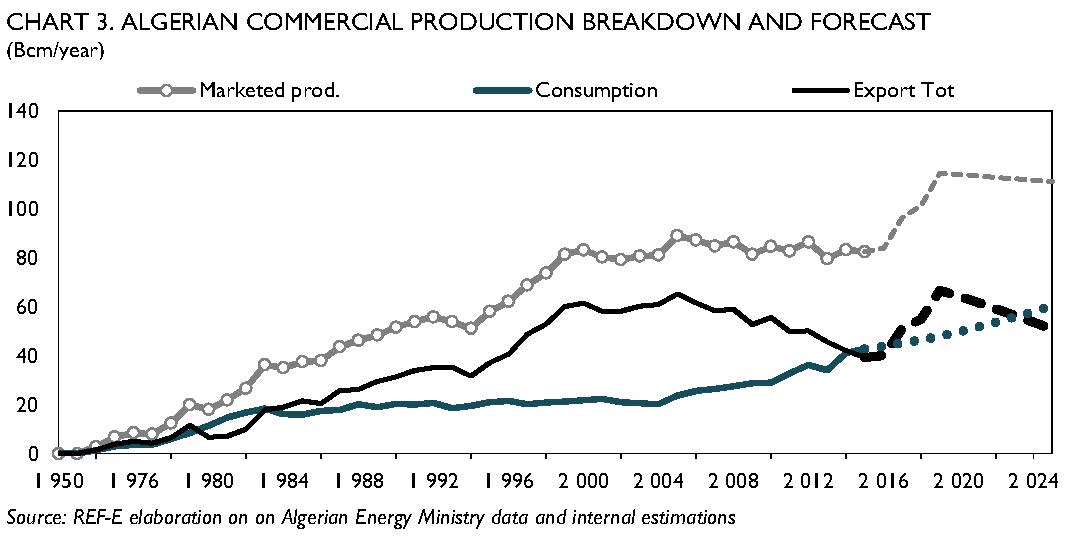 Therefore, the new management of Algerian NOC needs to move quickly in two directions: launching volumes on the more profitable markets and looking for new upstream partnerships. That is crucial considering also that its pipe long-term contracts are going to expire by 2019-2021 with the threat of US LNG in its destination markets. LNG roads currently are not preferred by North African producer since LNG prices have tanked and the ramp up of future liquefaction capacity drives bearish signals on Asian premium, therefore Asian attractiveness is actually weak: S-European netback prices (both pipe & LNG) are expected to be above Far-East LNG Netback, even if any additional margin could come from spot Middle East deals (Chart 4).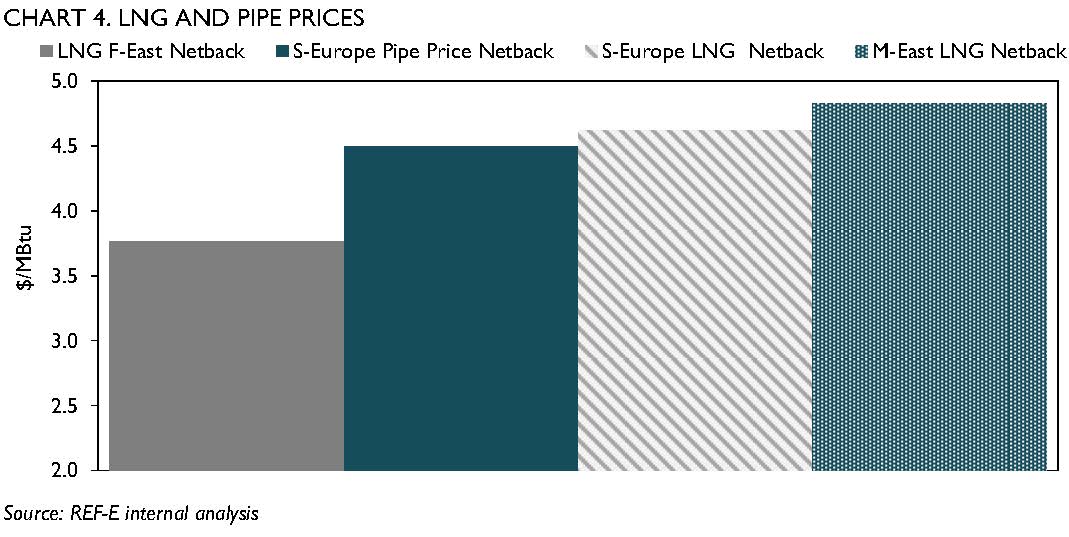 All these considerations should strongly motivate Algerians to extend its medium-long term deals with its European customers for a dual reason: market share defence in a stronger competitive market and the need of European strategic alliance for the achievement of safer production targets.
Article written by Claudia Checchi and Roberta d'Alessandro and underpinned by REF-E independent analysis and researches.