The Italian way to renewables PPA Edition 2020
After the first 2019 edition that proposed an
exploratory phase
, the
2020 edition
of the
PPA Committee
was born to develop a
proactive phase
. The
PPA Committee
aims to stimulate the debate between operators and institutions, to participate in the consultations, to elaborate and present shared proposals.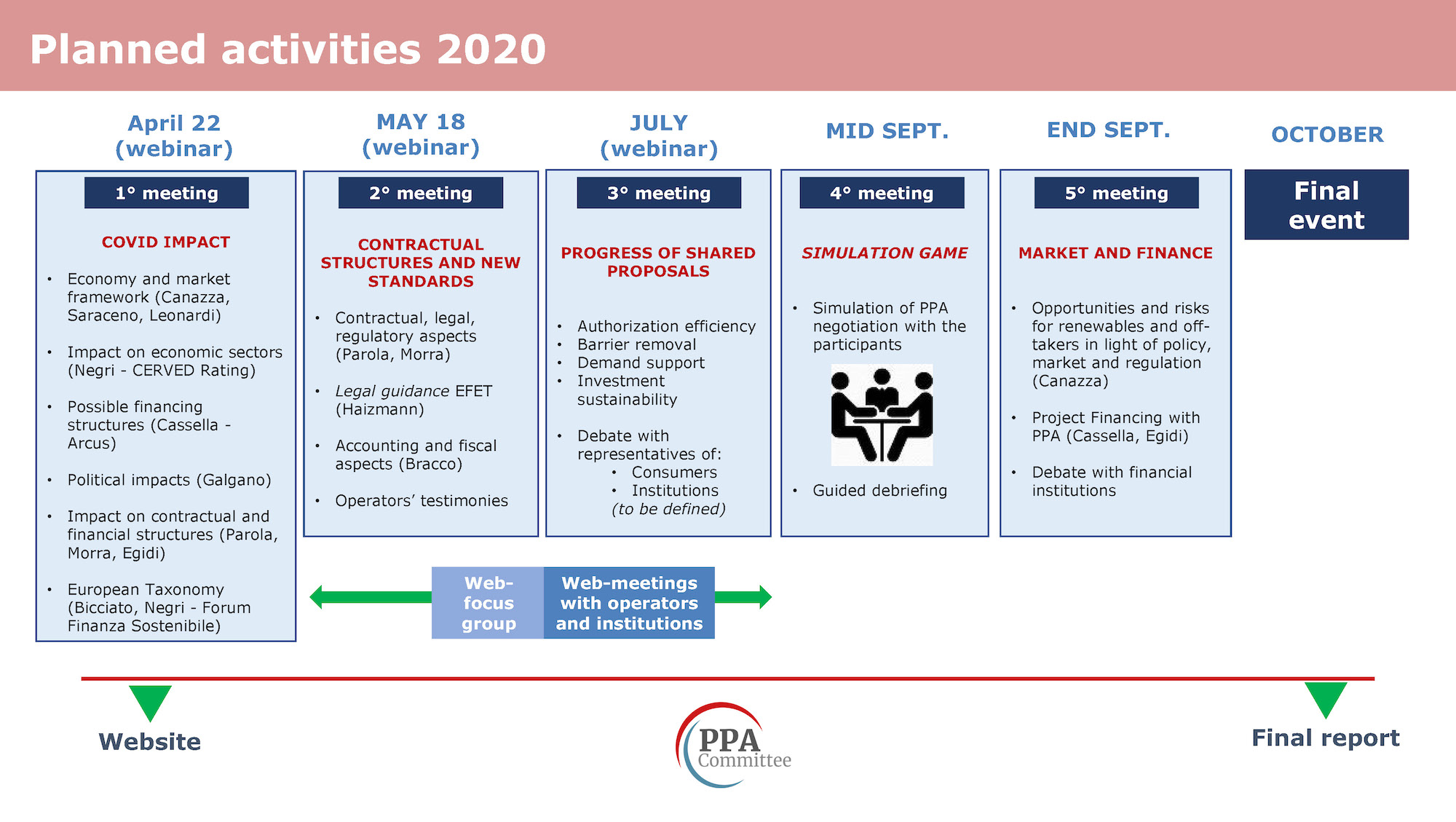 PPA Committee: learn, discuss, investigate, propose
Following an increasingly global trend, Europe is experiencing a significant development of the Corporate Renewables Power Purchase Agreements (PPA), which are long term contracts for electricity supply between renewable energy producers and companies.
PPAs enable producers to achieve funding models for plant power renewables without incentives and allow consumers to diversify the strategies for energy supply in a more competitive and sustainable way.
As confirmed in the "Piano Nazionale Integrato Energie e Clima" (PNIEC) sent from the government to the European Commission, PPAs are fundamental instruments to pursue the 2030 energetic and climate goals thank to their benefits for bankability of electricity renewable energy under market parity condition.
Which is the PPAs' sustainability in the Italian market?
REF-E
, and
Public Affairs Advisors
, two consultant agencies specialized in energy markets and institutional relations respectively, in collaboration with the legal office
Herbert Smith Freehills
, gave birth to
PPA Committee
. It is an high profile network among companies with the purpose of exploring, discussing and promoting the Italian way for the development of PPAs.
PPA Committee
aims to analyze in an objective and extensive way the several legal, regulatory, commercial, technical, technological and organizational issues, which are linked to many stakeholder: investors, producers, sellers, traders, suppliers, consumers, funders, insurance bodies and many others.
Why an Italian PPA Committee?
PPA Committee proposes a constructive dialogue among the operators with different but synergic needs:
Large energy consumers strive for an higher energy prices' stability in order, realize and communicate a green choice
Energy producers tend to stabilize the profits of the new projects under market parity condition
Financial operators require normative and regulatory clarity
Investors seek for new business opportunities.
and aims to become a reference point for those who are interested in working in the PPA market in Italy and want to learn more about the risks and the opportunity linked to the specificity of organization, structure and market trend, industrial fabric, regulatory, accounting and fiscal framework.
The work promoted by
PPA Committee
wants to come to expression as a useful and proactive contribution for the realization of quick and efficient objectives of our national energy policies.
The Path of PPA Committee
PPA Committee
's research work aims to increase the knowledge of the stakeholders on the topic ,through the share of different questions and possible solutions, driven by the independent experts of
REF-E, PAA
and
Herbert Smith Freehills
.
The realization of a common path, which is satisfactory to all, is the main goal of the committee.
The path of the
PPA Committee
takes place through a cycle of plenary meetings, focus groups, dedicated interactions. The documentation is progressively made available both in Italian and in English. The
2019 edition
ended with a
final public Conference
in which the
Final Report
was presented and shared on the
"Guidelines for PPPs in Italy"
- Download the
Executive Summary
2020 edition
: all events
Kick-off meeting to present the new station, the route and the indicative stages - 20/01/2020, Milan.
1° Meeting "COVID-19: Future scenarios and effects on Renewable PPAs" - Webinar, 22/04/2020
2° Meeting "PPA: European contractual trends and Italian tax framework" - Webinar, 18/05/2020
2° Meeting - Part II "PPA: Italian tax framework" - Webinar, 26/05/2020
3° Meeting - "PPA Committee 2020 shared proposals" - Webinar, 09/07/2020
4° Meeting - "Oltre l'incentivo: il mercato e le garanzie per il finanziamento delle Rinnovabili" - Webinar, 06/10/2020
Final conference - "Unlocking a renewable future. Le proposte per sbloccare gli investimenti nelle Rinnovabili" - Webinar, 03/12/2020
Look at the
PPA Committee's website
to find out all about the activities and the events. An important panel of different companies, representative of operators with different market position and strategies, participate at the PPA Committee: renewable producers and developers, integrated operators, small and large consumers, trader, financial operators, technology and service provider.